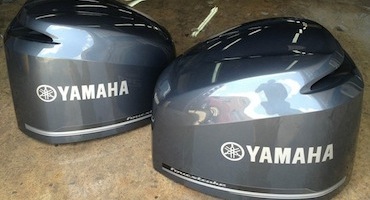 Read more +
COMPLETE OUTBOARD MOTOR REFINISHING
Our refinishing personnel are highly skilled professionals who take the utmost care and make your outboard motor look brand new! Your outboard will be completely prepped and sanded down to the needed workable surface.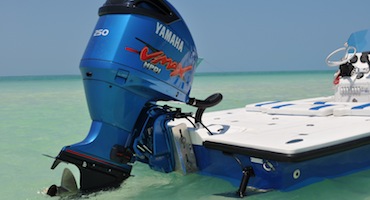 Read more +
CUSTOM COLOR OUTBOARD MOTOR REFINISHING
Is customizing more your style? Our highly skilled personnel can customize your boat by using a custom color on your outboard. We have many colors available to choose from.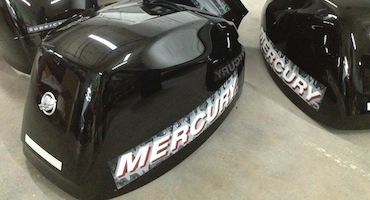 Read more +
ORIGINAL FACTORY DECAL REPLACEMENT
If replacing the decal is all you need, our trained specialists are here to help. All faded, damaged, or cracked decals can be removed and replaced with original factory decals to make your cowling look new again!
Custom Decals
Bored of your original factory cowling decal?
Do you want your cowling decals to match your boat's color scheme?
We have lots of custom decals available to choose from!
Give us a call and we'll help you find the right one for you.
Repair Cowling Body Damage
Is your cowling damaged?
No need to worry about buying a new one!
Our skilled professionals can repair any cowling!
All holes, cracks, or deep scratches are repaired on site.
Contact us to get more information
Outboard Paint Kits
Yamaha touch up or lower unit kit
Yamaha cowling & pan or midsection kit
Yamaha complete refinishing kit
Mercury touch up or lower unit kit
Mercury cowling & pan or midsection kit
Mercury complete refinishing kit
The Outboard Paint Shop is your one stop for all your outboard repair needs
We specialize in Outboard Refinishing. Using factory original colors and decals for Yamaha, Mercury, Honda, Suzuki, Johnson, Evinrude, Mariner & Tohatzu. We can make your outboard look brand new again at an affordable price.